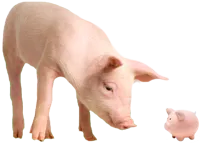 At our Animal Care Clinic in Inkster, we make sure our customers get the best prices out there. We make sure to provide options for your convenience.
1. The total estimate of the treatment will be given to you before hand any work is done.
2. We accept various types of payments: debit cards, credit cards (Visa, Mastercard, Discover, American Express) and cash. All cards must be signed by the owner of the card.

3. At our clinic, we have the CareCredit program. This program is very useful if your pet gets sick unexpectedly which results in an unexpected expense. The CareCredit program takes very little time to complete the form, you can either apply at our clinic, or apply yourself online at: www.CareCredit.com.
Some advantages of the CareCredit program:
Low Monthly Payments (3% of the Total Balance)
Interest Free For 6 Months
Determine Approval in a Few Minutes
No Annual Fee
Insurance For Your Pets

Another popular option for your family and pet is insurance coverage.